Need Ideas for Your Landscaping Project in Buffalo, NY?
Check out these resources to get helpful tips and tricks
Let's face it - taking on a landscaping project can be overwhelming. If you're not sure where to start, Southtowns Supply in Buffalo, NY has you covered. With over 12 years of experience, we know all the ins and outs of landscaping. And now we want to share that insight with you.

We've uncovered some of the best resources around to help you through your project. Keep reading to find some useful tips and tricks. You can also reach out to us with any questions about our wholesale mulch and stone products.
Fertilize before adding new mulch
No need to remove last year's mulch, it gradually breaks down, adding beneficial nutrients & other organic matter to the soil.
Protects your plants
Spread mulch 2-3 inches thick
Crushed limestone is nutrient rich and can boost plant, lawn, flower, and vegetable growth. It also neutralizes lawn acidity or alkalinity and regulates the soil's pH level. So, whether you're growing crops in your garden or just want to improve the look of your lawn, consider crushed limestone as an option. With rough Buffalo winters and salting driveways, flowerbeds take a beating.
No need to remove last year's mulch, it gradually breaks down, adding beneficial nutrients & other organic matter to the soil.
Take our Cocoa Brown Mulch, spread 2-3 inches thick. Why 2-3 inches of mulch? Protects plants in the winter, distributes water evenly, improves the soil, keeps plants cool in the summer, and acts as a weed barrier.
Typically used in Rock Gardens, under a hedge or around trees. Also works well in high wind areas. Many residents in Blasdell, NY close to Lake Erie prefer to use various stones like the River Stone so add pops of color and dimension.
Crusher Run #1 Limestone
Sizes from 1' and smaller are commonly used as fill, ideal for drainage, expanding and contracting with temperatures, and compaction when used as a base. Great for driveways and walkways as a filler layer.

2 Crusher Run Limestone
Sizes from 1 ½ " to 2" are used around drainage pipes, produce septic systems, road base, stormwater management systems, driveway gravel, construction sites as entrances and exits. Great for driveways and walkways as the foundation layer. "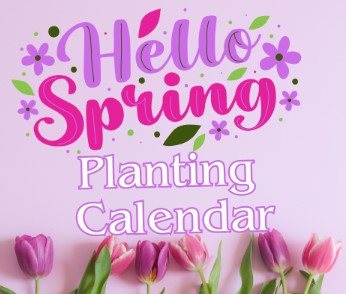 We encourage gardeners to use The Farmer's 2023 Almanac. This is the most useful tool because it provides information on weather patterns, planting schedules, and other important factors that can affect the success of a garden. For both flowers and vegetable gardens.
Here are a few reasons why you might want to use the Almanac when planting:

Timing: The Almanac provides detailed information on when to plant different types of crops, based on your location and the climate in your area. This can be especially helpful for gardeners who are new to the area, as it can be difficult to know when to plant without this information.

Weather: The Almanac provides weather forecasts and information on climate patterns that can help gardeners plan for potential weather events, such as frost or drought. This information can be especially helpful in areas with unpredictable weather patterns.

Pest Control: The Almanac can provide information on pest and disease control, including natural remedies and preventative measures that can help keep your garden healthy.

Lunar cycles: Some gardeners believe that planting according to lunar cycles can improve the health and productivity of their plants. The Almanac provides information on lunar cycles and how they may affect planting and harvesting.

Overall, the Almanac is a valuable resource for gardeners who want to plan their planting and gardening activities based on factors such as weather, climate, and lunar cycles. By using the Almanac, you can increase your chances of success and create a healthy, thriving garden.

For the 2023 Planting Calendar and Fall schedule follow this link:https://www.almanac.com/gardening/planting-calendar/NY/Buffalo
Clean up your garden beds: Start by removing any debris and dead leaves that have accumulated over the winter. Rake up fallen leaves, remove any dead plants, and clear away any other debris that might have accumulated in your garden beds.

Test your soil: Soil testing is important to ensure that your garden has the right balance of nutrients. You can get a soil test kit from a local garden center or nursery. Once you know what your soil needs, you can add the appropriate amendments to help your plants thrive.

Prune shrubs and trees: Pruning encourages new growth and helps to keep shrubs and trees healthy. Remove any dead or diseased branches, and trim back any overgrown branches.

Add compost: Compost is a great way to improve the health of your soil. It adds nutrients and helps to retain moisture. Spread a layer of compost over your garden beds, and work it into the soil. Southtowns Supply sells compost also known as "black gold". Compost is a valuable resource for gardeners. Compost is made by decomposing organic matter such as food scraps, leaves, and grass clippings. As it decomposes, it releases valuable nutrients such as nitrogen, phosphorus, and potassium, which are essential for plant growth.

Start planting: Vegetable Gardens: are cleaned up and your soil is ready, it's time to start planting. You can start planting cool-season vegetables like lettuce, spinach, and peas in early spring.

Flower Beds: Start planting early-blooming flowers like pansies and daffodils.

Mulch your garden beds: Mulch helps to retain moisture in your garden beds and helps to keep weeds at bay. Spread a good layer of mulch over your garden beds to help keep them healthy throughout the growing season. 1"- 3" inches is recommended to keep plants cool in the summer.
Using various colors of mulch like a Charcoal Black or Cocoa Brown can add a sharp look to your flower beds.

Water regularly: As the weather warms up, make sure to water your garden regularly. Plants need water to grow, and a lack of water can cause them to wilt or die.

By following these tips, you can get your garden ready for spring in Buffalo, NY.